ResMed AirCurve 10 CS PaceWave
Synchronised therapy for CSA with and without OSA.
The AirCurve 10 CS PaceWave delivers personalised ASV* therapy for patients with central sleep apnoea, with or without obstructive sleep apnoea, to promote comfort, safety and harmony.
ASVAuto mode
ASVAuto mode adapts to a patient's ventilatory and upper airway stability needs on a breath-by-breath basis. By treating central breathing disorders with auto-adjusting pressure support and upper airway obstruction with auto-adjusting EPAP, it rapidly stabilises respiration.
ASV mode:
In ASV mode, the EPAP can be manually titrated to set the optimal fixed EPAP to
keep the upper airway open.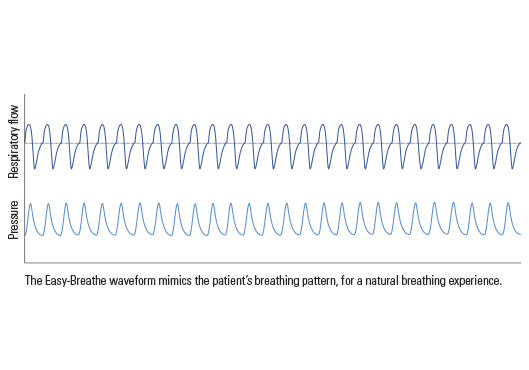 Other features
Easy-Breathe pressure waveform mimics the wave shape of normal breathing and replicates it for the patient's breathing comfort.
Continuous leak management enables reliable delivery of therapy pressure while maintaining patient-device synchrony.
Climate Control comprises the optional HumidAir™ humidifier and the optional ClimateLineAir™ heated tube and is designed to deliver constant, comfortable temperature and humidity.
Accessories for AirCurve 10 CS PaceWave
REF Number
Description
37283
AirCurve 10 CS PaceWave
37300
HumidAir Cleanable
36995
Climateline Tubing
36810
Slimline Tubing 15mm
36853
Filter
36857
Hyppoalergic filter
24966
Bacteria Filter
37333
SD Memory Card
37346
Power Supply
37394
Tubing Elbow
37304
Travel bag (Dark grey)
37305
Travel bag (Grey)
Contact us
Contact us for any information about the product
Contact us for any information about the product
ResMed AirCurve 10 CS PaceWave